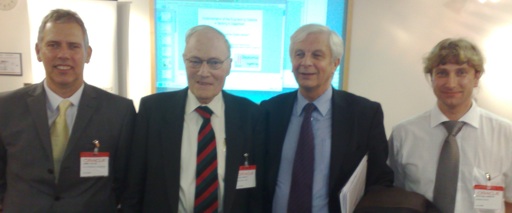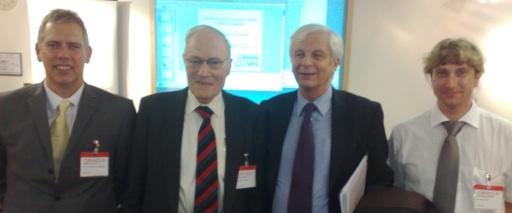 Jamie Tuplin, Stan Owers, Mick Waters and Pete Williamson – presenters at the Owers Lecture 2008
The Guardian reports "Oxbridge to accept engineering diploma" – welcome news to learners and their teachers pioneering the Engineering Diploma in Barking & Dagenham schools. This timely announcement comes a week after another stimulating and informative Owers Lecture presented by Jamie Tuplin and Pete Williamson, and an excellent commentary in response from Mick Waters, Director of Curriculum at the Qualifications and Curriculum Authority. This fourth Owers lecture, organised by Core Education UK, was once again held at Oracle UK's offices in Moorgate, London on November 12th, thanks to Oracle's ever-supportive Chris Binns who is champion for Oracle's altruistic ventures Think.Com and ThinkQuest in the UK.
Jamie Tuplin, who leads the diploma developments Barking & Dagenham Local Authority and Pete Williamson, Head of Design Technology at the Warren School (and Learning Line Lead for Engineering for the authority), reported their experiences & issues of Engineering Diploma implementation in the first three months.
The question put to the audience was 'Can Diplomas Cure the 'English Disease'?' and Mick Waters' response, designed to provoke further debate, was to outline several diseases, all of which needed attention! In the end we had to stop, but discussion was strong and all participants were hungry for more.