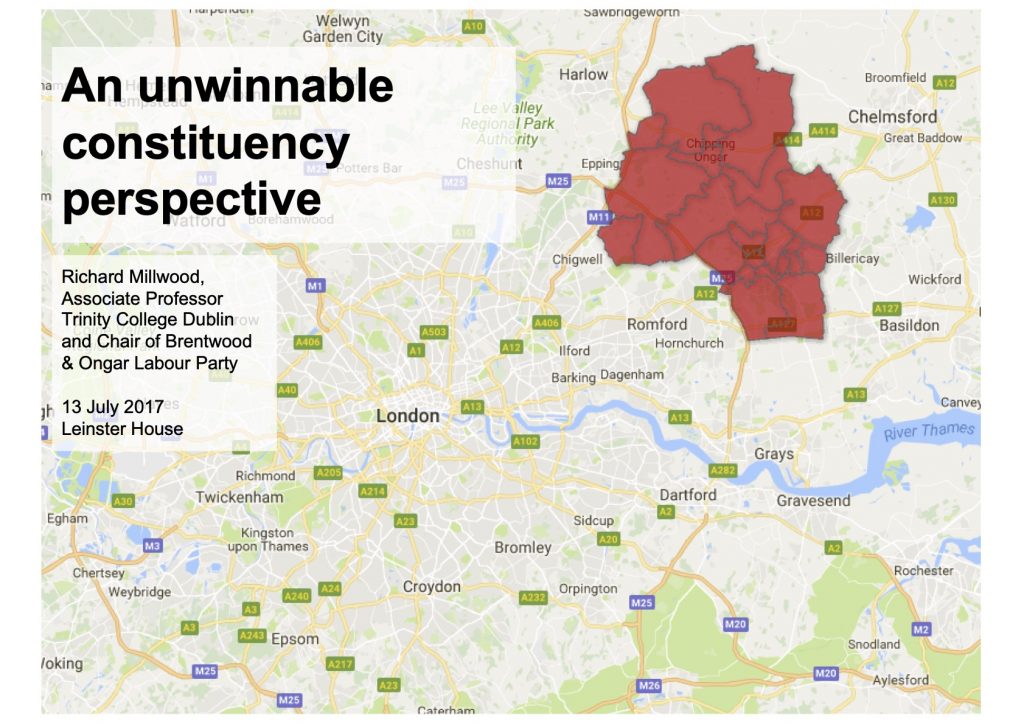 One of the students on the Masters in Technology and Learning that I direct at Trinity College Dublin works as an assistant to a senator in Ireland's parliament. She found out that I chaired the Brentwood and Ongar Constituency Labour Party and mentioned it to colleagues in Leinster House. This led to an invitation to speak there on my view of the Corbyn phenomenon. 
I explained that I wasn't a Corbyn insider, but that nevertheless, I would love to tell them what I did know from the perspective of Brentwood and Ongar constituency.
I titled the presentation 'An Unwinnable Constituency Perspective' and gave it on 13 July 2017 to an interested audience of advisors and members of the Irish Labour Party who had interesting questions!
Although their curiosity was driven by the huge rise in membership around Corbyn's leadership, I was more interested in explaining that there was value in our effort in Brentwood, even when you have little chance of winning, characterised by these seven aims:
Fulfil a need for like-minded people to discuss politics

Provide political education

Develop campaigning skills, and apply in marginals

Maintain local and parish council representation

Encourage and support young people

Apply professional and personal experience to the development of local and national policy

Offer voters the chance to support Labour