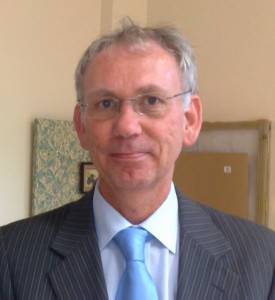 David Garland was without doubt the most accomplished professional I have ever had the honour to work with. I first met him when interviewing candidates for the headship of Holly Trees Infants in May 1997. He didn't interview as well as some – his charming self-deprecation didn't show off his strengths, but luckily we saw through that, picked him and never looked back.
He worked hard to create the most effective education for local children by organising the merger of the infants and junior schools to create the current Holly Trees Primary School. Not content with that, he organised the building of the current premises, moving from one of the worst buildings in Essex to one of the best. He did all of this whilst maintaining a hands-on, compassionate and high-standards job running the school (both schools for a short while) and did this through effective delegation, systems and support for colleagues. He earned their respect through his willingness to muck in and teach classes when needed and showed everyone what clear vision can do and how to go about making it work. When he was obliged to apply for the Primary headship, every member of staff wrote to me offering their support for his application.
All this I learnt through my professional relationship with him, but on a personal front he also welcomed my own son as a pupil, diagnosed on the autistic spectrum, with open arms. He built trust and friendship for my son from the whole community at Holly Trees to nurture his strengths and manage his weaknesses. Subsequently, my son went on to Cambridge, gained a Masters at Guildhall and is now studying for his Doctorate. I believe the teachers, assistants and pupil community at Holly Trees together made this possible, but David was at the heart of this community. My gratitude to him and all the team knows no bounds. I feel nothing but love for this man and deeply regret the lack of opportunity to show it and return the kindness and service he made possible with his vision and his heart. To his family, I can only say how sorry I am that he is gone and offer my thanks to them for their support for him, a man who I feel shaped so many lives for the better. He will never be forgotten.
David passed away on December 26th 2015.