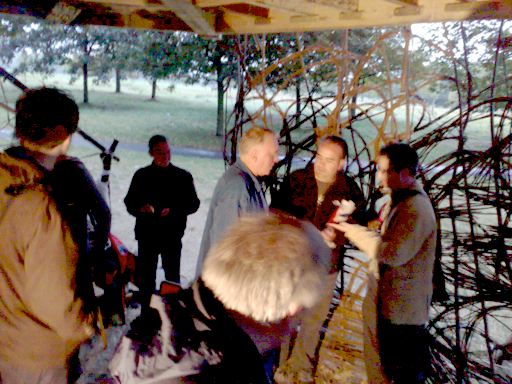 The ephemeral TreeHouse Gallery in Regents Park London provided a magical venue for an enjoyable discussion on new forms of teacher CPD. Initiated through Twitter by Drew Buddie who facilitated the meeting, which attracted myself, Leon Cych (who broadcast it on TwitCam), John Davitt, Merlin John, Anthony Evans, Dave Smith, Bill Gibbon, Andy Broomfield, Will and Daren Forsyth.
We got excited about TeachMeets, punchy presentations (whilst acknowledging the scope for lengthier, compelling presentations), Twitter and Blogs and the value of global networking. But we couldn't tackle the challenge of recognition for such learning – could it be that informal learning should be left alone and valued for its own sake? Perhaps its value is in developing risk-free peer-learning, light reflection and seeds for the adoption of new practices –  formal learning undertaken for rigour, recognition and career progression will always benefit from such experience.
All-in-all a valuable moment to pause for thought before tackling the new academic year (and a chance to see how a hobbit might feel in Lothlorien 🙂 .