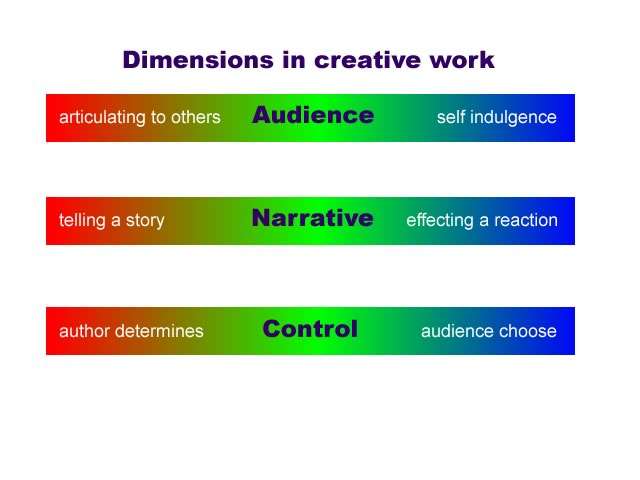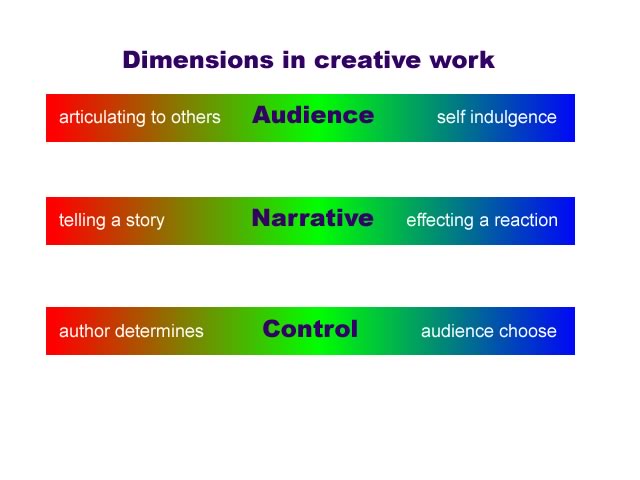 In talking about the issues of user-generated content with friends Stephen and Joy recently, Stephen reminded me of this presentation slide I used to show in 2004 in the context of a growing movement to engage children in the filming and composition of digital video.
The push by specialists such as the British Film Institute was to teach film technique, to be methodical, to learn 'film language' and essentially to be equipped to make compelling feature films. My feeling was that encouraging creativity and the arts demanded a rather more diverse approach.
With regard to audience, it seemed to me that an artist may well be concerned to articulate their ideas to an audience, on the other hand they may not care what the audience thinks, but simply please themselves in a deliberate (or naïve) break from tradition and justify it as art for art's sake and true to their calling. I am not an art historian, but this is somewhat the realm of the modernist.
From Wikipaedia:
"The most controversial aspect of the modern movement was, and remains, its rejection of tradition. Modernism's stress on freedom of expression, experimentation, radicalism, and primitivism  disregards conventional expectations. In many art forms this often meant startling and alienating audiences with bizarre and unpredictable effects, as in the strange and disturbing combinations of motifs in surrealism  or the use of extreme dissonance and atonality  in modernist music. In literature this often involved the rejection of intelligible plots or characterization in novels, or the creation of poetry that defied clear interpretation."
Narrative on the other hand relates to the structural-temporal purpose of an art form – whether to tell a story which maps roughly on to our life experience of sequenced events or to simply effect a reaction, inspire an idea or evoke a feeling. Clearly a film intended for the latter purposes need not conform to traditional 'film language', although it might benefit it.
Control is about viewing an art form in a sequence determined by the author or on the other hand through choices made by the audience. The former could be a film in the cinema, the latter an interactive game or a web-site. Digital video which forms part of a 'navigated' experience may owe nothing to traditional film techniques, and make new and less well-known demands of the author.
The bottom line is that it pays to be open minded about the purpose of creative work and at least discuss these choices when introducing new technologies to young people. If they choose to be on the left hand end of each of these dimensions, then it will pay them to develop some film language skills – perhaps at the excellent
Filmsense website
created by
Media Education Wales
.